CAMS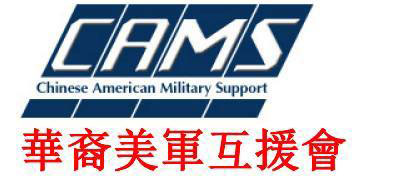 Chinese American Military Support (CAMS), a non-profit organization, was established in 2003 at the beginning of Operation Iraqi Freedom. Our role has evolved and expanded since to a full functional mutual support and military professional organization in the Chinese-American community.
Diversity has its special meaning for CAMS and is open to anyone who is serving or served the country and supports our community. We have members from diverse Asian backgrounds as well as Hispanic and others. CAMS welcomes military family members also.
CAMS' vision is to provide mutual support and career development to all American Armed Force members in our local communities while encourage the participation of the general public in support and understanding of U.S. Armed Forces.
CAMS provides professional development advice to current U.S. Armed Force members seeking professional guidance and mentorship. CAMS can do it well because we understand the military and social environment that the recruits will be facing throughout their careers.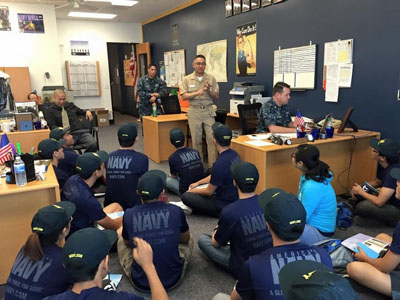 In terms of the organization, CAMS enjoys a huge success in recruiting and attracting young community veteran members, as well as retaining experienced veterans willing to share their knowledge and wisdom. We practice 'teamwork'.
CAMS is a 501 (C) (3) organization established under the State of California with IRS tax-exempt status.
CAMS Motto "Serving our country while participating in the community!"
LCDR Barry Lu: Baldwin Park Resident Continues City Military Tradition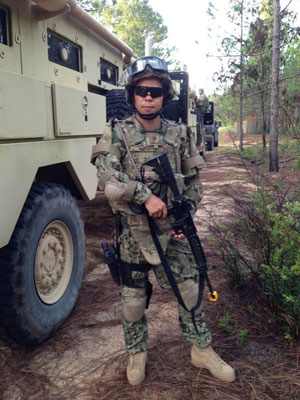 "My job with U.S. Forces Afghanistan exposed me to the cruelty of mankind in the war casualties and its most warm-heart aspect displayed in the care shown by American Armed Forces, NATO allies, Afghan natives, and our families back home," says proud Lieutenant Commander Barry Lu, US Navy.
"I was the Casualty Operations Branch OIC (Officer-In-Charge) responsible for documenting casualties in the region, coordinating notification and the return of civilian and military personnel deceased during deployment. An experience that enhanced my understanding of the sacrifices made by U.S. service members."
Lu is a founding member of Chinese American Military Support (CAMS), the most prominent Chinese American military support organization in the country, and Baldwin Park Personnel Commissioner since 2004. A true community leader. 
The city of Baldwin Park and CAMS organized a celebration to welcome LCDR Lu safe return home and reintegration to the family and community temporarily left behind. It was a standing-room only resounding success. 
Elected officials and leaders from cities across the San Gabriel Valley attended the event to showed their respect and appreciation to one of their own residents.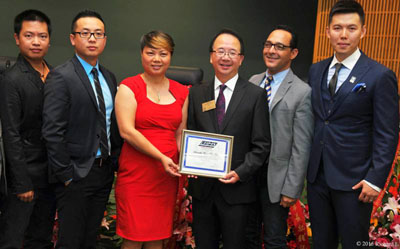 Congresswoman Judy Chu, State Assembly member Ed Chau, State Senator Ed Hernandez, L.A. County Supervisor Hilda Solis, Baldwin Park Mayor Manuel Lozano and Councilmember Monica Garcia, Monterey Park Mayor Peter Chan and former Mayor Hans Liang, Rosemead former Mayor and Councilmember Polly Low, City of Sunnyvale former Mayor Otto Lee (U.S. Navy Commander), Director of Upper San Gabriel Upper Water District Bryan Urias, and/or representatives attended. Other Councilmembers, School District Officials, Water Boards Officials sent their greeting to LCDR Lu as well.
Important participants also were members of American Legion Post 628 Chinatown (John Wayne Yee, Commander AL District 17th), Post 272 Montebello, Post 508 Azusa, Post 790 West Covina and Auggie of Post 241 Baldwin Park. Many residents of Baldwin Park deployed for the Global War on Terrorism (GWOT) showing a long tradition of patriotism and love of country. 
 Lu showed his deep gratitude to his family, friends, partners, to Baldwin Park Dental Center and the city HR department. 
"Baldwin Park is the first American city I ever lived, my home since 1992, the place where I formed and raise my family; and where I have developed friendships across ethnicity and culture. A place where I always felt welcomed and valued. 
"I was surprised and humbled by the warm embrace and reception back home. It makes me proud of what we are doing abroad to protect our country. Thus more comfortable spreading the word to younger generations to join us in our efforts to keep America safe," concludes LCDR Lu as he is joined by his family.
Leave a Response