Artisans' Faire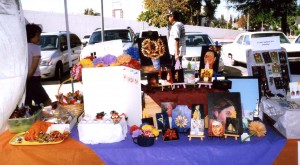 Booths filled with arts, crafts, art works, plants, jewelry, clothing, leather goods, hand-made flowers, gift baskets and holiday decorations covered the yard in front of Monterey Park's City Hall on October 17.
Residents shopping for the holidays walked around each booth looking around for that special gift.
Shoppers remember that this event was offered in November but budget restraints pushed the event up this year.
The crowd enjoyed both the Artisans' Faire and the Harmony Car Show set up in Barnes Park, behind city hall.
Leave a Response