MERCI needs your help!
Dear MERCI Supporters:
We are asking the families and care providers of our clients to please consider donating $20.00 per month to support our program and operational costs.
MERCI is paid for by all of our tax dollars, which are allocated by the state of California to help us provide services at no cost to our clients.  However, the state has not increased MERCI's rates for more than10 years, and in 2009 our rates were also cut by 4.5%. While we gradually received those cuts back, our costs continue to rise.  We recently took part in a massive letter-writing campaign to approve a 10% rate increase for programs like ours, but Governor Brown removed the increase from the state's budget for 2015-2016.This means no new money is coming our way.
MERCI is celebrating 60 years of service this year.   To continue providing the services that have made us an integral part of your community, MERCI needs clients, families, care providers and supporters to commit to at least $20.00 a month.  If you can afford more that would be greatly appreciated.
This donation will go along way toward helping us provide the level of care our clients deserve.  If you already donate to MERCI, thank you again for your continued support.  If you can donate more than $20.00, please do!  All donations go directly to funding our programs and operations.
Please fill out the attached form and return it to MERCI as soon as possible to sign up for your monthly contribution.
Thank you for supporting MERCI!
Marta R.  Escañuelas, MBA Executive Director
September 1, 2015
To:      Supporters, Consumers, Families, & Care Providers
From:    MERCI
We are thrilled to announce that we have re-started construction!  We were able to secure the loans to complete the administration building and the new multipurpose room/classroom and expect all the buildings will be completed by January 2016.  These new buildings will increase our ability to work with new clients and demonstrates MERCI's commitment to the people we serve. In 1955, a group of families came together to develop programs to instruct their children who were not allowed to attend schools. Laws have changed, and this year MERCI celebrates its 60th anniversary. As we move forward, we would like to thank you for your continued support and patience. Please consider a monthly contribution, see above information for more details.
SAVE THE DATE: Sunday, October 11, 2015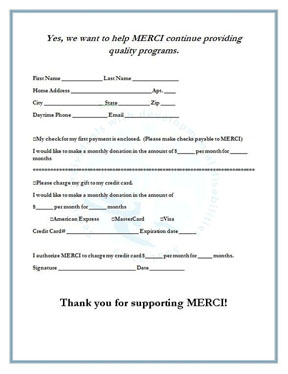 Leave a Response