Rosemead 5K, Kids Fun Run and Tot Trot July 4th Races A Success
A few hundred runners and walkers celebrated USA's Independence Day on July 4, by participating, volunteering or donating to Rosemead 5K, Kids Fun Run and Tot Trot, announced Race Director Israel Estrada.
Participants got an early start with the 5K getting underway at 7 a.m. and the cooler weather was a big help as participants had faster times on the challenging course, said Estrada. The Kids Fun Run followed at 8 a.m. and Tot Trot at 8:15 a.m.
Veterans who have served the USA and attend California State University, Los Angeles (CSULA) will benefit as profits from the event will go towards a few scholarships for student veterans at CSULA.
The course started and finished in front of Rosemead City Hall on Valley Boulevard, and continued past major Rosemead landmarks—Rosemead Shopping Plaza, Savannah Elementary School. Rosemead Park, Encinita Elementary School, and Rosemead High School.
Overall 5K top three male finishers were Daniel Cabrera of El Monte in 16:01.8 for first, Bailey Tang of Montebello in 16:33.1 in second, and Juan Cruz of La Puente in 17:04.4 in third.
Overall 5K top three female finishers were Valerie Tucker of Downey in 20:33.3 for first, Vanessa Torres of El Monte in 21:00.1 for second, just ahead of Daiya Cunnane of Pasadena in 21:01.9 for third.
Since this 5K race course is different than the course records set two years ago by overall winners Alex Esparza and Elizabeth Lyons, Cabrera and Tucker set course records this year, as did the age group winners.
Female winners in each age category were Kelly Cao of Rosemead (24:50), Erin Wong of San Dimas (23:48), Wendy Roy (23:26), Micaela Cantor of Rosemead (26:49), Diana Moreno of Walnut (25:36), Billie Pate of Upland (43:50), and Lola Ackerman of Beaumont (25:25).
Male winners in each age category were Kohki Ito of El Monte (17:13), Abraham Esparza of Rosemead (18:41), Peter Kim of San Gabriel (19:12), Robert Gazzale of Pasadena (19:25), Martin Vega of Montebello (21:17), and Pedro Rojas of Rosemead (19:40).
"The volunteers enjoyed giving out the beautiful custom finisher medals as much as the runners and walkers enjoyed receiving them," said Estrada. "There also was free Starbucks coffee and Nature's Bakery bars, and Driftwood Dairy donated little milks for everyone and the top two overall female and male finishers started a tradition by drinking fresh Driftwood Dairy milk after the awards ceremony to celebrate."
Major contributors were City of Rosemead, Rosemead Chamber of Commerce, Rosemead Kiwanis, California American Water, California State University, Los Angeles Associated Students, Rosemead's Dinsmoor House Museum, Driftwood Dairy, Golden Rose Florist, Irwindale Speedway and Events Center, Jim's Famous Burgers, Nature's Bakery, Pasadena Star-News, Republic Services, Road ID, Roadrunner Sports, San Gabriel Valley Tribune, Starbucks (Rosemead Plaza), UFC Gym, Vikon, and Whittier Daily News.
"Rosemead 5K also recognizes Los Angeles County Fire and Sheriff departments and American Medical Response who helped make the event safe and enjoyable," commented Estrada.  The entire event happens because of dozens of volunteers, he continued. "Our volunteers are who make this fun and glorious event possible on our country's Independence Day," he emphasized.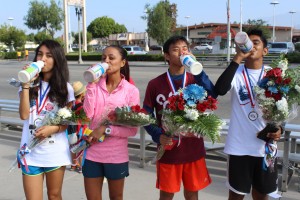 A TRADITION was started by overall top 2 runners of Rosemead 5K on July 4 in Rosemead, as (from left) Vanessa Torres of El Monte, female second place, Valerie Tucker of Downey, female first place, Bailey Tang of Montebello, male second place, and Daniel Cabrera of El Monte, male first place, drank milk to celebrate the Rosemead 5K run on USA's Independence Day.    Tucker and Cabrera both set new course records. There was free milk from Driftwood Dairy, coffee from Starbucks, and food bars from Nature's Bakery. Photo by C. Lyons.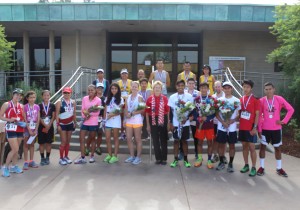 Rosemead 5K overall top three female and male winners and winners of age group categories were congratulated by City of Rosemead Mayor Maggie Clark in front of Rosemead City Hall.  Photo by C. Lyons.
Leave a Response