Assemblymember Chau honors Scott Warmuth during California Small Business Day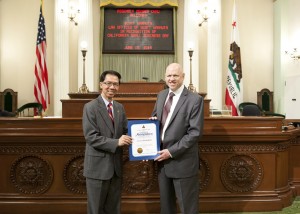 Assemblymember Ed Chau (D-Monterey Park) presented Scott Warmuth with an award for his contributions to the 49th Assembly District as both a business and community leader during the 2015 California Small Business Day celebration held on June 10, 2015 at the Sacramento Convention Center in Sacramento.
"I am proud to recognize Scott Warmuth for his exceptional business acumen and community service," said Assemblymember Ed Chau.  "Scott is an invaluable member of the San Gabriel Valley whose legal practice has brought jobs and quality service to many communities in the region, so I honor him today as the 49th Assembly District's Small Business of the Year."
Scott Warmuth is the founder of the Law Offices of Scott Warmuth. The firm has served residents of the San Gabriel Valley since 1984, growing from a sole practice to a firm with 40 professionals.  The firm has taken a leading role in assisting the Chinese-American community, offering seminars and community education forums in cities throughout the region and maintaining a schedule of radio and television programs on Chinese-language media. Scott Warmuth is also the co-founder of the Alhambra Lions Club.  He previously lived in China, where he taught law, and served as an advisor to many Chinese organizations and businesses.
California Small Business Day is a day dedicated to recognizing the contributions of small business to the state of California, and provides the California State Assembly and Senate an opportunity to honor small businesses from within their districts.
Leave a Response