Monterey Park Bruggemeyer Library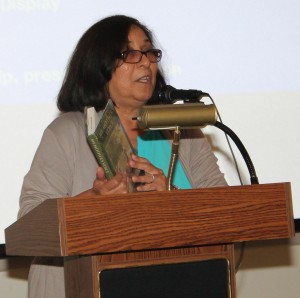 Cindy Costales introduced Kay Mouradian as the guest speaker in the Friends Room on May 31st. The library features an ongoing series featuring authors, books and films about real life stories.
Kay Mouradian, EdD is a professor emerita from the Los Angeles Community College. She holds a doctorate in education from Nova Southern University and degrees from Boston University and UCLA.
She will be talking about her book, "My Mother's Voice" and showing a 25-minute documentary, which tells the story of her mother who escaped the horrors of World War I in Ottoman Turkey.
Cindy Costales said that she just read the book, "My Mother's Voice".  The book is now available at the library.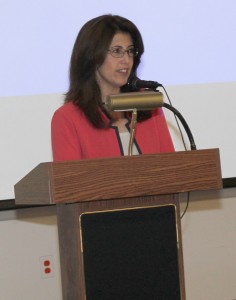 Councilmember Teresa Real Sebastian said her husband Armen Sebastian is Armenian. She welcomed the audience to this event. She met Kay Mouradian last year when she took her in-laws to meet the author.
She learned about the genocide from her husband's family. His grandmother and grandfather are survivors.  People need to be educated on the Armenian Genocide so it will never happen again.
She thanked the audience for attending this event.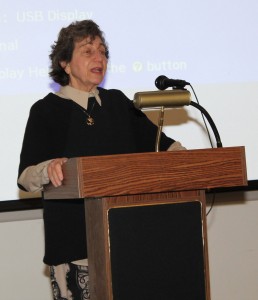 Kay Mouradian welcomed the audience to hear the story about her mother and her family.
In 1914 her father, Sarkis Mouradian, came to the USA and stayed before World War I.
In 1915 her mother, Flora Munushian at the age of 14, her family and twenty-five thousand other Armenians were forced to leave their homes. They were not allowed by the government to sell their property or homes. They could only bring clothing or articles that they could carry in their arms or on their backs.
"My Mother's Voice" is written in novel form from stories that her mother told her about her life in Armenia before the war. She also told her daughter about the forced deportation in the deserts of Syria where more than a million Armenians perished.
Her mother came to America at 18 and married a man she met in a picture. They lived in Boston and had four children.
Kay Mouradian admitted that she did not pay attention to the genocide in Turkey until she was in her 50s.
She discovered the truth about 1915 and researched the genocide in the Library of Congress for three months.
This project took 20 years that included three trips to Turkey and two trips to Syria.
She wanted her family to represent all of the Armenian families.
Her book is dedicated to all of the victims and survivors of the Armenian Genocide, a story that must not be forgotten.
Kay Mouradian also produced a movie based on her research into the Armenian Genocide titled "The Ottoman Empire and the Fall of Western Armenia".
She said that students have viewed her file and responded favorably to the history in the world.  Her 25-minute film has been shown in several history classes.
"I am my mother's voice", says Dr. Mouradian, "and this is her story".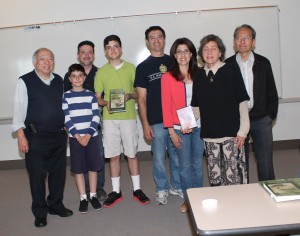 Kay Mouradian, Councilmember Teresa Real Sebastian, Armen Sebastian, Arek Der-Sarkissian, Paren Der-Sarkissian, Jack Der-Sarkissian, Howard Fong and Daniel Lunardi shared their knowledge and history about the Armenian Genocide.
Kay Mouradian can be reached at her email: kay@kaymouradian.com or at her website: www.kaymouradian.com
Leave a Response