Scudder Scholarships
Marion Sumimoto, a member of the Historical Society of Monterey Park and Scholarship Committee Chairman, welcomed John Scudder and Scholarship winners James Meza and Carmella Dean. She introduced President Pauline Lemire, 1st Vice President Dave Barron, Treasurer Jim Iwaki, Corresponding Secretary Beryl Williams, Curator Marlene Buenrostro, Docent Chairman Mara Hernandez, Dolores Seidman, her husband Norm Stevens and Gloria Guerrero to the audience at the luncheon held at Marie Callender's Restaurant in Monterey Park on June 7th.  She thanked the Scholarship Committee who reviewed eight applications from students requesting these scholarships that are granted to students studying nursing, business or law.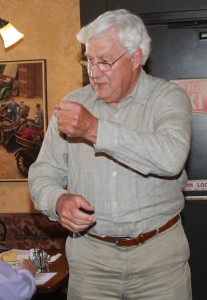 John Scudder, grandson of Laura Scudder, who is fondly called the Potato Chip Queen. He gave a brief history of his grandmother's life in Monterey Park when she decided in 1926 to make potato chips in her hometown.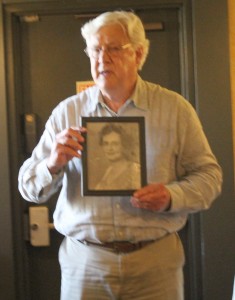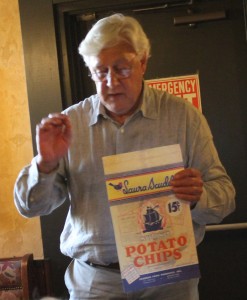 John Scudder proudly displayed picture of his grandmother, Laura Scudder and a copy of her famous waxed potato chip bag.
Mrs. Scudder hired local housewives to create wax paper bags as a packaging solution for potato chips. They ironed the wax bags to keep the potato chips fresh and sanitary.  Historically, potato chips were packaged in barrels or tins. The wax paper bags allowed potato chips to be stored in a more stable and secure environment keeping them fresher longer while also reducing crumbling.
Mr. Scudder said her salesmen would plunge a sealed wax bag into a pail of water to prove to store owners that the chips would remain fresh and crisp.  Laura Scudder potato chips then became a best seller.
John Scudder recalled the family history that on Thanksgiving Day in 1926 his grandmother decided to produce potato chips on the day after Thanksgiving so his grandfather spend the night peeling a 100 pounds of potatoes for her business.
Laura Scudder was also a nurse and a lawyer.  Her peers considered her an outstanding lawyer before she passed the bar. She worked hard for her family and all of us. She loved Monterey Park.
John Scudder said he had just visited his grandmother in the San Gabriel Cemetery and brought her a nosegay of flowers. He explained that a nosegay is a very old term for a bouquet. His grandmother liked Sweet Williams and he grows them in her memory.
The Scudder Scholarship program with the Monterey Park Historical Society has awarded over $100,000 to students going back to school to advance their futures in nursing, business or law.
Mr. Scudder thanked the Scholarship Committee for their selection of this year's winners. He loved people coming back for a second pass.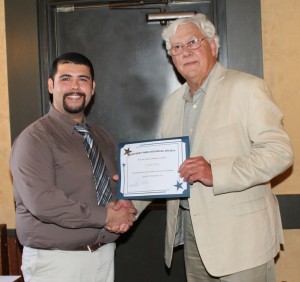 James Meza, a Covina resident, received his scholarship from John Scudder to continue to study for his nursing degree at Mt. Sac.
He thanked John Scudder and the people of Monterey Park. This is life changing. It will pay towards his nursing career. He is very grateful to everyone.
Mr. Meza said that as a nursing student he would be working as a nurses' aid at Inter Community Hospital for hands on training. Later he would be doing his clinical work at the hospital. He is working towards a Master's Degree and wants to become a Nurse Practitioner.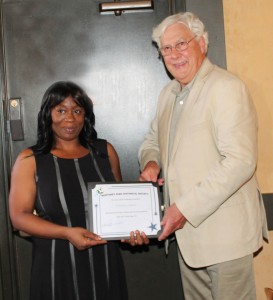 Carmella Dean, an Altadena resident, received her scholarship from John Scudder to continue her studies at Pasadena City College for a business degree. She plans to complete her education at Cal State, LA.
She thanked John Scudder and called this scholarship a blessing from God. As a young widow with three children she needs to support her family. She moved from being a housewife to being a student.
Ms. Dean is planning a future in the construction business using computer programs to design homes for her client.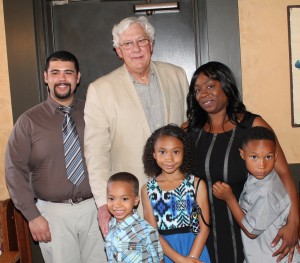 John Scudder, James Meza, and Carmella Dean with her children: Ariana, Oscar and Carlos enjoyed the luncheon ceremony.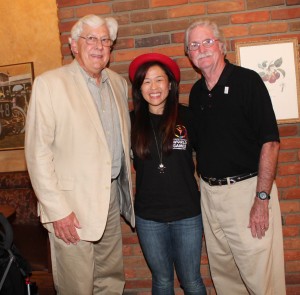 John Scudder proudly donated funds to the Special Olympics Committee Members Kana Lee and Larry Sullivan. Monterey Park and sister city Alhambra are hosting guests from Germany for the Special Olympics being held in Los Angeles from July 25 – August 2, 2015.
Leave a Response