New alternative transportation service for seniors (55 and older)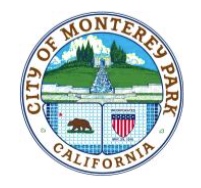 The City of Monterey Park is testing a pilot transportation program very similar to the current city Dial-A-Ride program. This pilot program is being serviced by Fiesta Taxi and 1800-TAXICAB taxis.
How does it work? Participants will need to get a booklet with coupons. Each booklet has 10 coupons. You will need one coupon per single trip (one way). Starting May 1st, simply call the toll free number provided on your coupon to order a taxi. When your taxi arrives, please provide the driver with your coupon and $1.00 copay. Booklets are available at Langley Center located at 400 West Emerson, Monterey Park, CA 91754, between the hours of 9 am to 3 pm, Monday through Friday. Applicant must show valid identification for proof of Monterey Park residency and age. For more information please call (626) 307-1395.
Who qualifies? Monterey Park residents who are 55 or older.

What if I speak Spanish or Mandarin? Fiesta taxi will have Spanish and Mandarin speaking operators Monday through Friday from 8:00 a.m. to 4:00 p.m.
How do the taxicab cars look like?

Dial-A-Ride Program Rules:
-You can go anywhere in the city of Monterey Park and to the following approved satellite points:
Alhambra:
Alhambra hospital, 100 South Raymond Ave.,
Health Care Partners, 25 South Raymond Ave.
Health Care Partners, 55 South Raymond Ave.
Pacific Medical Center, 707 Garfield ave. Alhambra, CA
Montebello:
Beverly Hospital, 309 West Beverly Boulevard
Kaiser Permanente, 1550 Montebello Town Center Drive
Internal Medical Group, 101 West Beverly Boulevard
San Gabriel:
Eye physician and surgeon, 416 West Las Tunas Drive
Facey Building, 207 South Santa Anita Ave.
San Gabriel Medical Center, 218 South Santa Anita Ave.
East LA:
Kaiser Permanente, 5220 East Telford Ave,
White Memorial Hospital, 1700 E. Chavez Ave.
Gold Line, 5150 E. Pomona Blvd.
-If you need a trip on the weekend, you can book your trip ahead of time.
-The service will be available 24 hours a day, Monday through Sunday.
-No children or pets are allowed on the Dial-A-Ride. Service animals are the exception.
-Return trips are scheduled by calling the dispatch center after the senior has completed his/her business. Since the return trip cannot be scheduled in advance, there may be some waiting time for return pick-pick up.
-Appointment times are approximate. However, if the Dial-A-Ride does not arrive within ten (10) minutes of the scheduled time, the senior should call the Dispatch department. If unable to keep an appointment, the senior must call the Dial-A-Ride and cancel.
-Program participants should be ready ten (10) minutes before the scheduled appointment time. If the participant is not ready at the scheduled pick-up time, the driver will wait up to 5 minutes only.
-Dial-A-Ride participants can only have one (1) pick-up and return trip per day. Multiple trips on a single day are not allowed.
-All participants, including the handicapped, must be at the street level. All participants should wait for the Dial-A-Ride on the sidewalk.
-Drivers cannot leave his/her vehicle to assist passenger into the medical facility. They cannot enter private homes or extended driveways, they may not lift passengers with or without wheelchairs up or down stairs/steps. They will assist seniors with no more than 8 packages. The maximum weight for any package is 20 pounds.
-Please take the necessary medications or snacks with you, in case of a possible delayed waiting time for pick up.
Leave a Response