Fun at St. Stephens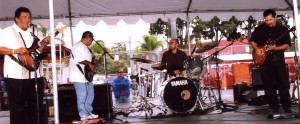 Live entertainment was part of St. Stephens' annual fundraiser held on October 11 in the schoolyard.
Parishioners and their friends enjoyed playing carnival games that included Tic-Tac-Toe, Wheel of Fortune, Bean Bag Toss, Darts, Bowling, Knock the Cans and the Nickel Roll.
Bargain hunters shopped in the White Elephant booth where one person's trash was another person's treasure.
The International Food Court, the Annual Breakfast and the dessert booth drew a steady crowd of hungry people eating their way through the day.
The Beer and Wine Garden was opened to adults 21 and over.
The Moon Bounce and giant slide were opened to children of all ages.
The kids enjoyed making crafts and having their faces painted.
The Confetti Eggs booth was a huge hit with the children who raced around tossing eggs filled with confetti at the friends.
The schoolyard was filled with as much confetti as the day was filled with fun raising money for the parish.
Leave a Response