Lions Club Breakfast
Monterey Park Police Chief Jim Smith, a longtime club member, fried and scrambled eggs for the 68th Lions Club Breakfast held on June 7th at Barnes Park Community Pavilion.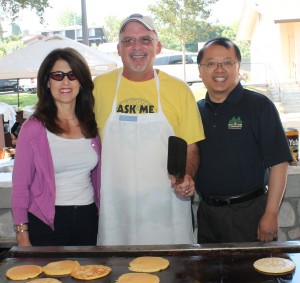 Department Head Tom Cody joined by Councilmembers Mitch Ing and Teresa Real Sebastian behind the grill as he flipped golden pancakes for the guests to enjoy.
In what other city can you have your city employees cook a delicious breakfast of ham, eggs and pancakes?
Student members of the Police Explorers and Mark Keppel's Tennis Club, Key Club, Leo Club and their friends took orders and served breakfast to over 750 residents and their guests.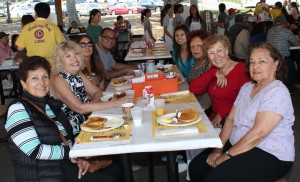 Members of the Monterey Park Opti-Mrs. Club have a standing reservation to enjoy good food and conversation at the breakfast.
Councilmember Stephen Lam joined by Delario Robinson, K Y Chan and Cherry Liu at the event.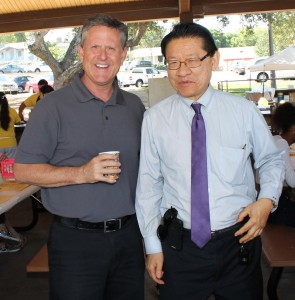 City Manager Paul Talbot and Community College Boardmember Mike Eng shared a conversation.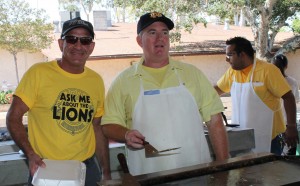 City Treasurer Joseph Leon joined Chief Smith serving up eggs to the crowd.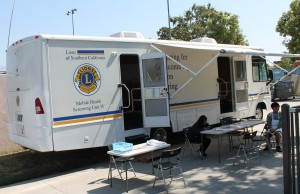 The Mobile Health Screening Unit IV was on location to aid the residents with eye exams.
The Special Olympics Committee had a booth for the guests to donate funds to help support the games.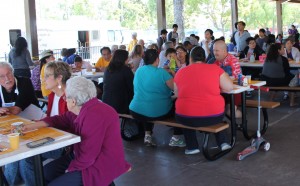 The guests included Department Heads Dan Costly and Ron Bow as well as many longtime residents and new residents.
The room was filled with people enjoying good food and conversations.
Leave a Response