Senator Ed Hernandez' 2015 Women of Achievement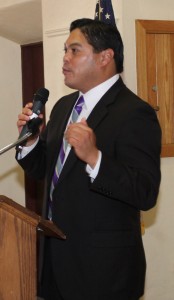 San Gabriel Mayor Jason Pu welcomed the honorees and their guests to Senator Ed Hernandez' 2015 Women of Achievement Awards held in their lovely city on March 27. He thanked Dr. Hernandez and his staff for bring the prestigious awards ceremony to the city. It is the 5th Annual Awards ceremony. He thanked Senator Hernandez for these awards and remembering Women's History Month.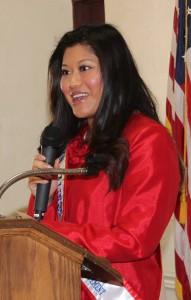 Wenli Jen, Ed.D was the keynote speaker. She thanked Dr. Hernandez and his family for this honor. She thanked her mother, her sisters and her aunts for being role models. They prepare us to be survivors. She spoke about cultural competency, leadership, self-esteem and women and girls' empowerment. A woman should be valued for herself not for her style of dress. We still have work to do.  She asked people to see women in a new light as fearless leaders and everyday heroes. Please see young women for their souls, their spirits and their light. They are our future women.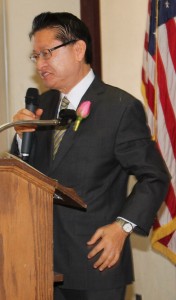 Trustee Mike Eng welcomed Senator Ed Hernandez to this event. Dr. Hernandez supports health care. They worked together in the Assembly in Sacramento. Senator Hernandez represents the 22nd District that included the San Gabriel Valley. He grew up in La Puente, attended local schools and graduated from Bassett High School. He worked his way through school, attending both Rio Hondo and Mt. San Antonio Community Colleges before going on to get his B.S. degree in Biology from Cal State Fullerton. He received a scholarship to study Optometry at Indiana University, which is also where he met his wife, Diane. After returning home, Dr. Ed and his wife setup their first practice in his hometown of La Puente. Dr. Hernandez is able to work with the other legislators for the community. He is a great problem solver.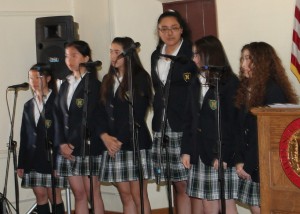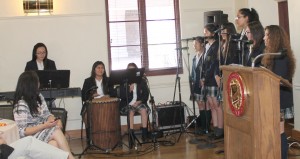 Students from Mission High School provided the entertainment.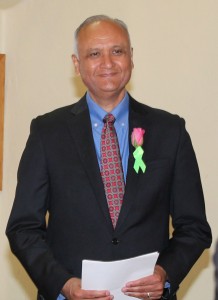 Senator Hernandez said he really enjoys doing the events in his district. He enjoys the fun times to meet with the residents. He said the honorees have done incredible things. This district represents all of the people of Los Angeles. California is a great state and is a great place to live in.  March is Women's Month so he is honoring his Women of the Year. Since the State Senate does not honor people locally he does it in his area.  This is his 5th Year for the Women of Achievement Awards. He spoke about his parents that he meets with every week. His mother stressed the importance of an education. He said that he was not tempted to join any gangs. He was more afraid of his mother than any gang members. He introduced his wife, Diane as his partner. They have two daughters. Valerie is a Councilmember in La Puente and Jennifer is a schoolteacher in the L A Unified School District. We are here to honor the Women of the Year.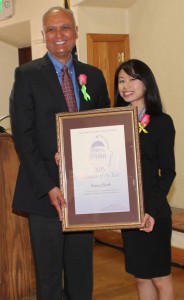 Senator Hernandez honored Nancy Banh for her service in Health Care. She is an optometry student and a volunteer in her community. She advocated for health care with various vision screening and tests for students.
Ms. Banh thanked Senator Hernandez for this award. She thanked her friends, her mother, her father and her brother for their love and support. She thanked everyone for this honor.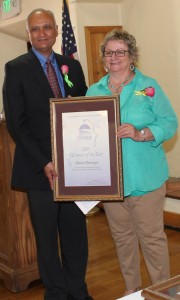 Senator Hernandez honored Elaine Heisinger for her Community Service. She is a tireless champion for women and girls with Soroptimist International of Azuza – Glendora. She helps girls overcome adversity in middle school through the Personal Growth Program. She also fundraises for Azuza High School to provide students with educational tools to succeed.
Ms. Heisinger thanked Senator Hernandez for this award for her volunteering work. It brings her rewards by helping other people by doing things for them. It is good to help people.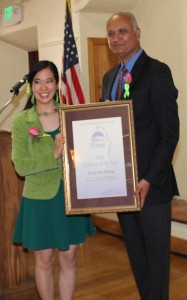 Senator Hernandez honored Emily Wu Truong for her Social Services. She helps to alleviate the mental health stigma in the Asian American community through her volunteer work with the San Gabriel Valley chapter of the National Alliance on Mental Illness.  She is currently a certified presenter of NAMI.
Ms. Troung shared her personal struggles with mental health issue with the audience. This award is dedicated to all those people suffering in silence. She works in mental health due to her childhood problems. She called herself her best friend. There is no shame for people with mental health issues. She supports mental health. Life means something. We have a long way to go. With help there is hope.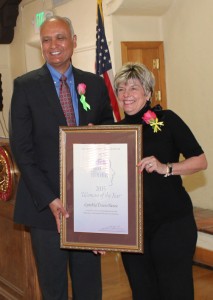 Senator Hernandez honored Cynthia Travis Vance for her Volunteerism. She dedicates her time and resources to several organizations and community event in Temple City. She has been involved with Master Plan for Temple City.
Ms. Vance thanked Senator Hernandez, her friends, family and all the volunteers for this honor.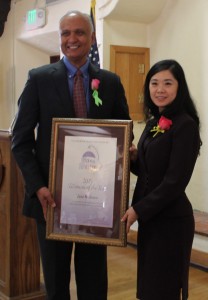 Senator Hernandez honored Jane Wibowo for her Business. She started her own business in the insurance and financial industry 16 years ago. She lacked entrepreneurial experience and business mentors. In 2011, her company was certified as a Minority Business Enterprise, Women Business Enterprise and Certified Minority Public Utility. She also gives back to her community through several service clubs.
Ms. Wibowo thanked Senator Hernandez for this event to honor more women in the area.  She thanked her staff and friends for their support.  She worked hard to be successful. She stated that she asked God for help for love and success. She said that she received everything she needs. Women are important in everyday life.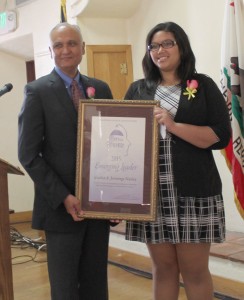 Senator Hernandez honored Cecilia Andrea Jennings Nunez for being an Emerging Leader. She is in the 11th grade at Ramona Convent Secondary School with a 4.37 GPA. She volunteers as a Peer Tutor for at-risk youth at Project NEO and is currently the Student Leaders Board President. She is also a member of the National Honor Society, Vice President of the Key Club, Class Treasurer and Co-Founder and President of the Women United Club.  She plans to attend Brown University and major in Political Science and Economics.
Ms. Nunez thanked Senator Hernandez for this honor. She also thanked Anna Chu from Project NEO for nominating her. She enjoys working as a tutor for Project NEO. Education is important. She advises young women "Reach for what you want to do in life. Not what other people tell you". She thanked her parents and teachers for their support. Women still have to go forward. We need to keep fighting for all of the women in the world.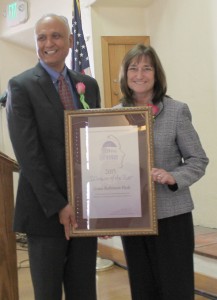 Senator Hernandez honored Grace Robinson Hyde for her work in Environmental Protection. She is a Chief Engineer and General Manager for the Sanitation Districts of Los Angeles County. She is one of the few women to take on a prominent position in this male-dominated industry. She is responsible all aspects of the operations that serve the needs of approximately 5.5 million people in Los Angeles County and protects public health and the environment.
Ms. Hyde thanked Senator Hernandez for this wonderful honor. It has been a great pleasure to work in the Sanitation District. She thanked the Board and the employees for their support. We can work together to help us in the drought.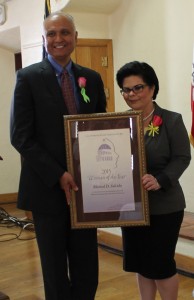 Senator Hernandez honored Marisol Salcido for her work in Education. She contributes her expertise on child development at the Hacienda La Puente Unified School District. She works with parents and special needs children to ensure that all of the students have the best possible future.
Ms. Salcido said this is very humbling for this opportunity. She thanked the district for the early childhood development education. She thanked her mother, sister and family. She said she would pass it forward. A smile is her gratitude for success of a child and their parents.
Senator Hernandez thanked his staff for their support. They do a great job. The women are incredible. There are the people who make this county and state great.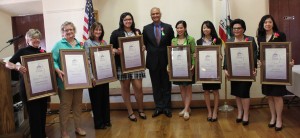 Senator Hernandez and his honorees posed for a group picture in honor of this special event.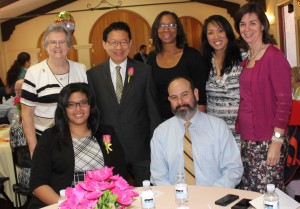 Cecilia Andrea Jennings Nunez shared her honor with Trustee Mike Eng, her mother Dr. Chasity Jennings-Nunez, her father Dr. Felix Nunez, Principal Mary Marsell, Anna Chu and Sister Kathleen Callaway.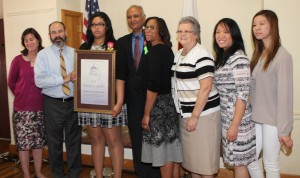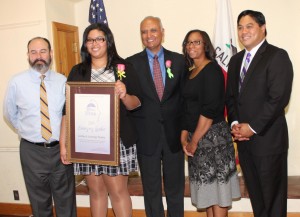 Cecilia Andrea Jennings Nunez shared her honor with Senator Hernandez, Mayor Jason Pu, her mother Dr. Chasity Jennings-Nunez, her father Dr. Felix Nunez, Principal Mary Marsell, Anna Chu and Michelle Hsu from Project NEO and Sister Kathleen Callaway.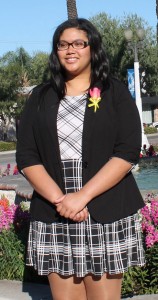 Cecilia Andrea Jennings Nunez enjoying the honor of being selected as a 2015 Woman of Achievement by Senator Ed Hernandez.  Ms. Nunez is destined to be a great leader in our future.
Leave a Response