Project NEO Career Pathways Forum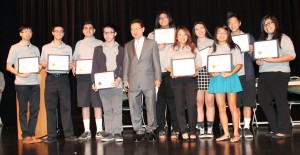 Trustee Mike Eng of the Los Angeles Community College District Board of Trustees installed the newly elected President of the Project NEO Student Leaders Board Cecilia Andrea Jennings Nunez with Vice President Hannah Wong, Secretary Andrea Herrera and Members at Large: Joseph Garcia; Kevin Khuong; Deliang Lei, E.A.; Christina Li; Nou Chi Mous; Andy Xiang; Trace Xu and Lorenzo Zamora on March 20 during the forum held at East Los Angeles College in Monterey Park.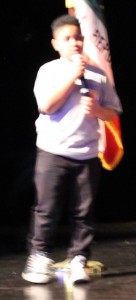 Vincent Reifer led the Pledge of Allegiance in the company of Master of Ceremony Al Cone from the Athletics Department of the college.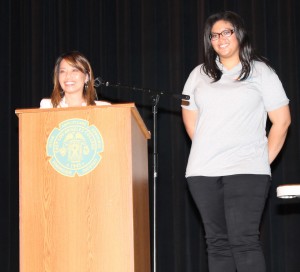 Mary Wong, Founder of Project NEO proudly announced Cecilia Andrea Jennings Nunez, has been selected as the recipient for the 2015 Women of Achievement Awards in the category of Emerging Leader by Senator Dr. Ed Hernandez of the 22nd Senate District.
Ms. Nunez thanked everyone for attending this event. She thanked the members of Project NEO for the honor of being the president of the group. She will be a member of the Class of 2016 from Ramona Convent and plans to attend Brown University to major in Political Science and Economics.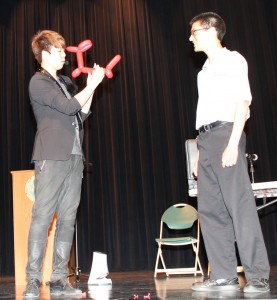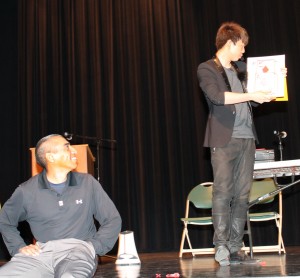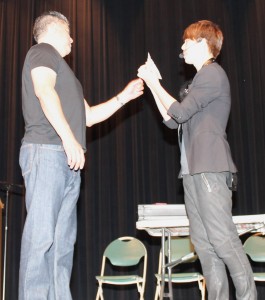 Johnny Wu provided entertainment for the event. He wowed the audience with several magic tricks with assistances from Lorenzo, Damien and Ron.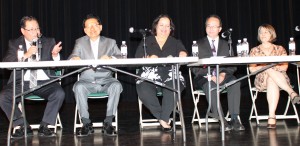 President Marvin Martinez of East Los Angeles College, Trustee Mike Eng of Los Angeles Community College Board of Trustees, President Adele Andrede-Stadler of the Alhambra Unified School District Board of Education, Monterey Park Mayor Pro Tem Peter Chan and Sister Anna Keim of Ramona Convent Secondary School were the speakers on the panel. They reflected on challenges and opportunities to implementing, scaling and sustaining career pathways by identifying proven and innovative practices for helping students attain the skills and credentials needed for the attainment of and advancement in high demand careers.
President Martinez stated that the students learn from joining panels. He spoke about his career that advanced to becoming the president of East L A College. He did not feel ready but accepted the challenge. One of his students had learning disabilities but successfully joined the Speech Team. He praised his students on the basketballs terms and speech teams that are making the school proud of them. The students are doing well. He thanked Mike Eng for his support of the college.
Trustee Eng thanked Mary Wong for this event. He suggested that choosing a career or job is not a magic art. He called this event the most important event of this year. It is about the choices we make and live with. He spoke about his mother helping him make a choice for his college major. He enjoyed journalism but his mother suggested political science. He became a lawyer and began his own law firm. He still enjoys writing and writes a weekly memo that he sends out to many of the residents in the school district. He suggested the students listen to everyone and get a lot of opinions in their lives. You may make the wrong choices. You may have several careers and tears in your life. You must care about your careers.
President Andrede-Stadler said today's learners are tomorrow's leaders. She is honored to be here with the volunteers. She thanked Mary Wong for inviting her. She attended East L A College at night school in the 1980s. Careers were very different. She attended Cal State LA. She enjoys children so she majored in education. She also worked with State Senator Hilda Solis helping people. She remembers that the bathroom facilities at Mark Keppel had no doors on the stalls. She cares about people outside of her household. She works to create policy to help children to face the real world. Their high schools offer special elective courses. Community colleges are best for college preparation.
Mayor Pro Tem Chan said politics is funny and can be dirty. He spoke about the California drought and the penalties for people wasting water. Parking around East L A College is a premium so the residents asked the Council for parking permits in their neighborhoods. He said that is political. It affects everyone. You can be a politician without being elected. You could work for the government like a private company. They pay more that the government. You make the choice. Elected officials do things for the people. You affect your city or the world. He suggested the students serve as interns to learn how to succeed. He suggested the students decide by age 29 to make a career choice, be persistent and do it.
Sister Keim spoke about her crazy career changes over the years. She first majored in Spanish and worked as a prison guard. She then became a probation officer. She went to grad school and became a Spanish teacher. She later became a Sister of Holy Names and studied theology. She warned the students it may take a while to find your passion. It may take time. Be yourself and don't let the culture define you. Take time to learn who you really are. You may change over the years. You evolve. She wished them the best of luck.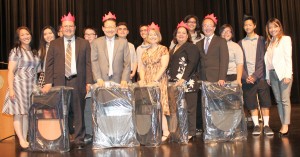 The Project NEO Student Leaders Board, Mary Wong and Anna Chu presented crowns and chairs to the speakers as a token of their appreciation.
Anna Chu thanked everyone for attending this forum.
Project NEO Mission Statement: Project NEO establishes and maintains a school- based learning program for at-risk youth. Our aim is to reach those whose educational achievement can be increased significantly by applying proven techniques at key points of opportunities. Project NEO not only provides free afterschool tutoring to at-risk youth in the San Gabriel Valley but also mentors our volunteers in developing strong leadership skills.
Project NEO is located at 1022 E. Garvey Avenue in Monterey Park, CA 91755.
They can be reached by phone: 888-761-2080, fax: 626-573-4188 or email:
info@ProjectNEO.org
Leave a Response