Meet The Author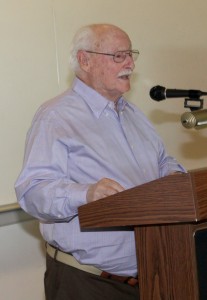 Charles "Norm" Stevens shared his childhood growing up in Inglewood, California with the audience of family, friends and neighbors at the Friends Room of the Monterey Park Bruggemeyer Library on March 8.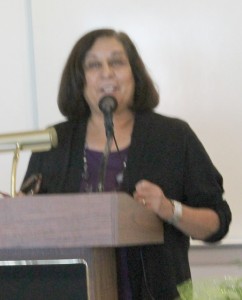 Librarian Cindy Costales welcomed the guests to this special event, which is a part of the library's "History Alive Program". She introduced Norm Stevens, a longtime resident of Monterey Park, who has authored this book "Seeking More of the Sky: Growing up in the 1930's".
Mr. Stevens was born in Los Angeles and raised in Inglewood. He served in World War II in the Army Air Corps and flew 34 bombing missions. He received the Air Medal and the Distinguished Flying Cross. He attended college using his GI Bill. He also taught in the Montebello School District.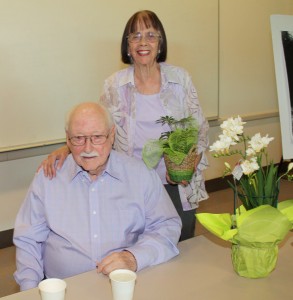 Norm Stevens and Dolores Seidman have been married 43 years. Mrs. Costales called them a great team who work together.  She thanked Dolores Seidman for supporting the library's "Women in History Month".
Mr. Stevens stated that he was raised in the Great Depression. His family and their neighbors had a better life style then many other Americans during that time period.
He recalled his love of trains and how he followed the trains on his bike to the station to visit with the engineers.
He stated he also loved the sky and enjoyed watching the clouds.  He and his father built a four-foot watch town next to their garage so he could see over trees to the sky.
A neighbor who always teased him about watching the sky gave him a wonderful gift. It was a chance to fly in an airplane.
His father also took him to see the airshows at the location of the now famous Los Angeles International Airport.
He recalled that life was simpler in those days as he thanked the audience for their attendance.
Norm Stevens' love of flying was born before he enlisted in the Army Air Corps.
Norm Stevens and Dolores Seidman decided that he should write his memoirs in books to share with their children, their grandchildren and now their great grandchildren.
He has published his wartime accounts:  "An Innocent at Polebrook", "The Innocent Cadet" and "Back from Combat".
Those interested in purchasing an autographed copy of any of his books may contact the author at 323-721-8230 or Normstevens24@gmail.com.
Norm Stevens and Dolores Seidman are long time contributors to The Citizen's Voice newspaper now an Internet newspaper: thecitizensvoice.net.
Please enjoy their monthly travel journal complete with pictures in each issue.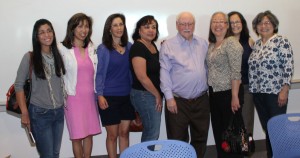 Norm Stevens was surprised by the support of many of his former Shurr High School students who attended his talk at the Monterey Park Bruggemeyer Library. They found him on Social Media. They enjoyed him as their teacher. They said he was one of the few teachers who actually traveled during his vacation time.
Mrs. Costales thanked Mr. Stevens for sharing his childhood with the community in book form. She also thanked the audience for their attendance.
Leave a Response