Monterey Park Mourns Loss of Crossing Guard and Resident Abel Castellanos
On Tuesday, January 27, the City Of Monterey Park and police department experienced a tragic loss of one of its employees.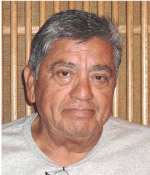 A traffic collision at Garfield Avenue and Elmgate Street, directly in front of Monterey Park Fire Station 62, claimed the life of 76 year-old Abel Castellanos, a crossing guard and long-time resident.
"Abel was a fixture at this corner for the past 10 years and was highly regarded and respected by those who knew him. He was especially close to members of the Monterey Park Fire Department who would exchange stories and coffee with him on a daily basis," said Monterey Park City Manager Paul Talbot. "The children at Macy Intermediate School and Meher Montessori School were especially fond of their safety companion. He will be dearly missed by all members of the Monterey Park Police Department," Talbot continued.
Castellanos lived in Monterey Park for over 50 years with his wife Delores who passed away in April of 2014. Castellanos is survived by his daughter, two sons, grandchildren, in-laws and numerous friends.
City Manager Talbot, on behalf of the city council and all city employees, expresses condolences to Castellanos' family and friends. In honor of Castellanos, flags at city hall will be flown at half-staff.
Leave a Response