Assemblymember Ed Chau's December Meet and Greet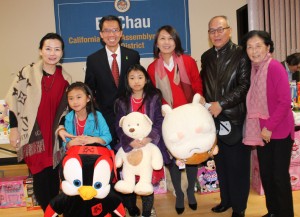 Assemblymember Ed Chau was joined by his wife, Candice Chau, his daughter, Caitlyn Chau and family members Mercedes Cai, Grace Cai, LuLun Cai and Ou Li at his Meet and Greet Toy Drive held at the YMCA in Alhambra on December 18.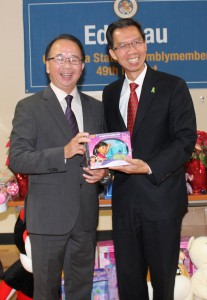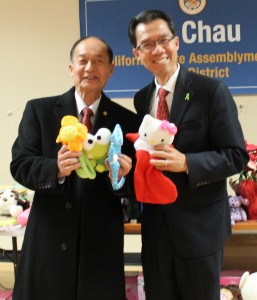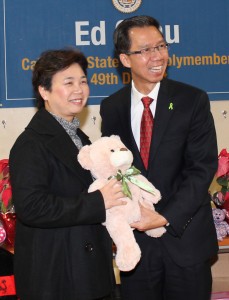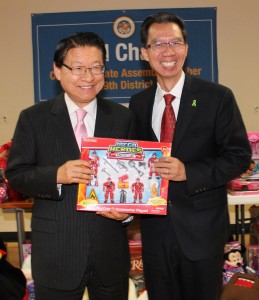 Elected officials Peter Chan, Anthony Wong, Polly Low and Mike Eng joined Ed Chau to share in the "Spark of Love" Toy Drive.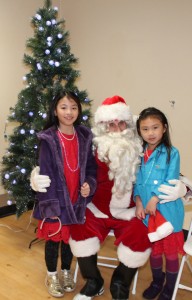 Santa Claus joined in the fun with some of his friends.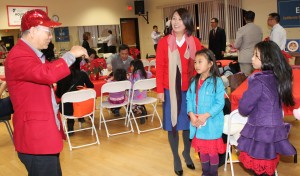 Pedro Chan shared his magic tricks with some of the guests.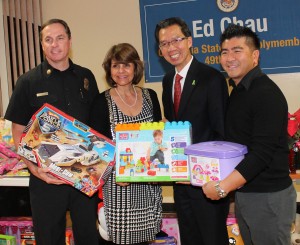 Alhambra Fire Chief Bill Walker, Minh Luu from the Pasadena Boys and Girls Club and YMCA Executive Director Valerie Gomez joined with Ed Chau in thanking all of the guests for their generous toy donations. The toys along with food gift baskets would be distributed to some students and their families in the Alhambra School District.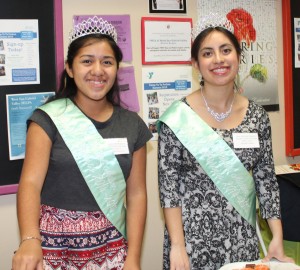 Members of the San Gabriel Mission Royal Court Jessica Moreno and Maria Cueva help serve the hungry guests.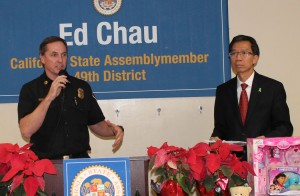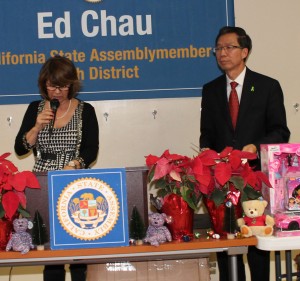 Fire Chief Bill Walker and Valeria Gomez welcomed and introduced Assemblymember Ed Chau to the audience. They praised him for his values and his service to the Y. They thanked him for hosting his holiday event at the Y.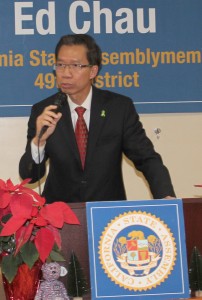 Assemblymember Chau thanked everyone for attending his event and their generous donations to the "Sparks of Love" Toy Drive.
He introduced some of the special guests included Councilmember Jason Pu, School Boardmembers Adele Andrade-Stadler, Henry Lo and Bob Bruesh, Minh Luu from the Pasadena Boys and Girls Club, Trustee Mike Eng and Water Boardmember Thomas Wong.
He thanked Valeria Gomez, Sandy Roscoe, John Harrington, Minh Luu and members of the Royal Court for their support.
Assemblymember Chau spoke about the balance budget for the last four years, the Rainy Day Fund and the Water Bond. He said the employment figures are up and the governor has signed 14 of his bills.
Assemblymember Chau met with the residents and cities to help him craft his laws that will improve the life of people in his district.
He spoke about AB 1043 his Water bill; AB 2707 his Transportation bill; AB 2306 his Privacy bill; AB 1738 his Housing Assistance bill and AB 1929 his Mental Health Housing bill that have been signed into law.
He thanked everyone for coming and being part of his team.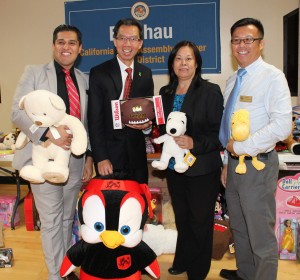 Ed Chau introduced his local staff: Daisy Ma, Henry Lo and Miguel Sesura to the guests.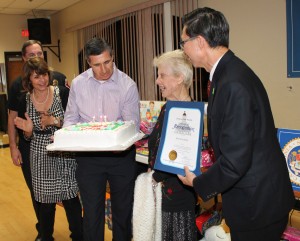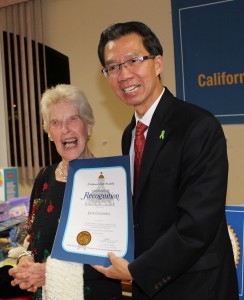 Assemblymember Ed Chau, Fire Chief Bill Walker and Valerie Gomez honored Alhambra resident Jaye Caldwell on her 99th birthday.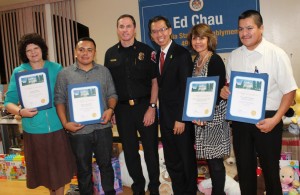 Assemblymember Chau presented proclamation to Pizza Place CA, Mariscos San Isidro, Fortune Bakery and the YMCA for their participation in his event.
Leave a Response