Rosemead High School
News Release
Rosemead Girls Basketball Teams With Malibu for Community Service Project
A recent community service project at Malibu Boys and Girls Club was a great experience of competing teams in competition following a game with becoming one team to complete the project, said Malibu High School Girls Assistant Coach Al Bower.
On Nov. 24, Malibu prevailed on the court with a 24-22 win against the visiting Rosemead High School girl's frosh soph basketball team. Then both teams walked next to the Malibu High School campus to the Malibu Boys and Girls Club, where more than 100 young people visit a week, according to a club spokesperson.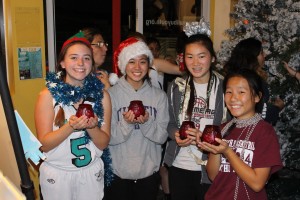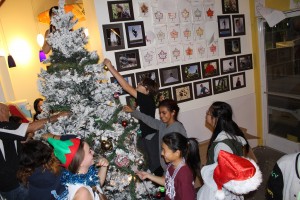 The girls from both teams were given the task of decorating the club entrance with holiday decorations and putting together a 12-foot-tall tree and adding lights, garland and decorations. The girls also decorated the lobby in a festive manner, said Rosemead Assistant Coach Chuck Lyons, who called Bower about the idea of working together with Rosemead, which is a school in El Monte Union High School District.
"We should tell more people about all the great young people there are in society," stated Lyons. "There are many people in many places who volunteer and although this is only one project, it does give some young people who haven't volunteered before the opportunity to contribute as a volunteer. One player remarked this wasn't work, it was fun. So their outlook on volunteering can increase dramatically with a fun project. It helped a lot that both schools played to win, and sincerely played with great sportsmanship." Rosemead team also saluted the Malibu coaching staff and the Malibu Boys and Girls Club staff for working together to arrange the project.
After the decorating, the players realized they were getting hungry. "No problem, Bower and the team at Malibu had already arranged for a pizza dinner and the Rosemead team brought the chips, desserts, snacks and soft drinks and water and before you knew it they were all gathered around talking about things young people talk about," said Lyons. "After dinner when they were informed it was time to finish the day, they had to keep being reminded it was time to go even though they were like relatives catching up on things at a holiday dinner. They helped brighten other people's day with the decorations and shared a great experience with someone they didn't know."
The Rosemead team was then led by the Malibu team with a walk across the street from the school to the famous Zuma Beach where movie stars visit, said Bower.
"Although the stroll on the sand was brief, it was clear as crystal that these young people could compete fairly while trying to win, show great sportsmanship even in a close game, and then come together with people they hadn't met before to help brighten someone else's lives," said Lyons. "Although they didn't see a movie star at the beach they themselves have become stars for their volunteer effort for many other young people."
Leave a Response