MERCI's 25th Annual Trees of Enchantment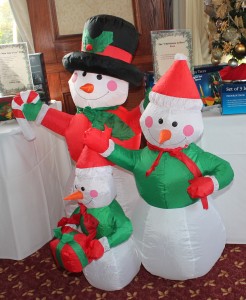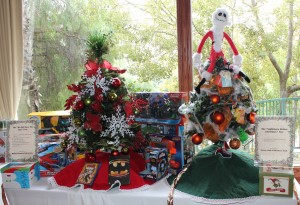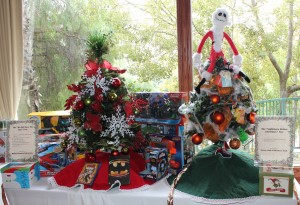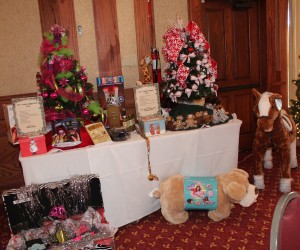 Some of the twenty-five Christmas trees, each decorated with a different theme, dressed the room at MERCI's annual fundraiser held on December 7 at Monterey Park's Luminarias Restaurant.
Approximately 450 guests enjoyed a delicious champagne brunch as they purchased raffle tickets for their special trees in hopes of winning a theme tree with its gifts included. They also had a chance to win the door prizes that include gifts from K-Earth 101.1 FM.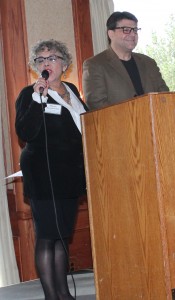 Executive Director Marta Escanuelas welcomed everyone to MERCI's 25th Annual Trees of Enchantment. She introduced Sky Walker from K-Earth 101.1, the events Emcee.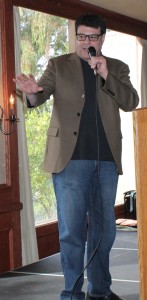 Sky Walker introduced himself to the audience He is a native Southern Californian, born and raised in the San Fernando Valley. He broadcasting career spans over 25 years of broadcasting in the Los Angeles area and has been heard on legendary radio stations such as KIIS-FM, KKBT (The Beat), KYSR (Star), KBIG and KRLA.
Currently he can be heard every Saturday and Sunday from 5PM to 9PM on K-Earth 101.1 FM in Los Angeles and world wide at www.kearth101.com.
He welcomed everyone to this special event. He asked if the guests had seen the stuffed horse or the giant TV that are available for raffle ticket holders to win? He has his eyes on the TV so be sure to purchase more raffle tickets if you want to win it. Santa Claus from Dodger Stadium is expected to arrive at any minute to visit with you.
Special guests at the fundraiser included Congressmember Judy Chu, Assemblymember Ed Chau, Monterey Park Councilmembers Hans Liang, Peter Chan, Mitch Ing, Teresa Real Sebastian and Anthony Wong, City Clerk Vince Chang and Trustee Mike Eng.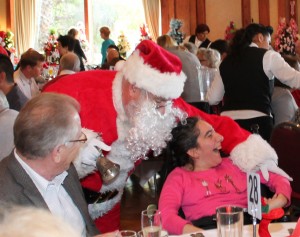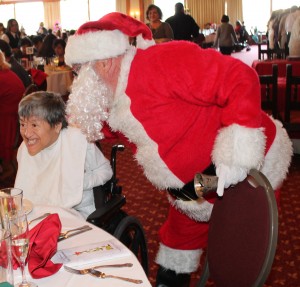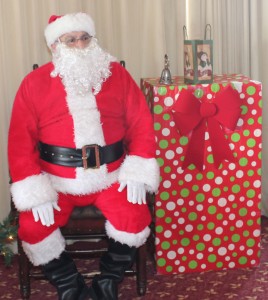 Santa Claus stopped to visit with some of his special friends at their tables. He also sat at his place of honor to visit with guests.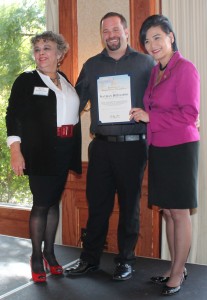 Congressmember Judy Chu said she is along time supporter of MERCI. She thanked Marta Escanuelas for helping disabled people in Monterey Park. She presented proclamations to the Nathan DiFilippo, A. J. Glassman and Daniel Pedroza for their valuable contributions to the MERCI family. Mr. Glassman and Mr. Pedroza were not able to attend the event. She congratulated MERCI on their successes.
Mr. DiFilippo from Ledcor Corporation is in charge of the new construction for MERCI that included the Duce House, an office building and additional classrooms for the clients. Ledcor donated over $50,000 to MERCI.
Mr. Glassman is the legal advisor to MERCI. He has been very helpful on the construction projects.
Mr. Pedroza is their IT man who has been helping MERCI with their computer system.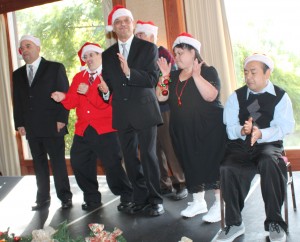 MERCI Jinglers performed several Christmas carols to the delight of the audience.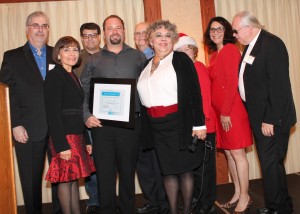 Sky Walker introduced the 2014 Board of Directors: President Elizabeth Diaz, Vice President Keith Breskin, Secretary Linda Wilson, Treasurer Pastor R. Sheldon Hess, Bob Bruesch, Christine M. Cisneros and Executive Director Marta Escanuelas, MBA.
Liz. Diaz welcomed the guests to this special event. She thanked them for their dedication.
Marta Escanuelas gave the history of MERCI that was founded in 1955 by parents of children with disabilities. At that time doctors recommended that parents put their disabled children away in state run facilities.
In 2006 the city of Monterey Park offered money to MERCI to build a larger facility in the city.  The construction has been very slow due to financial issues but we are moving forward.
She thanked many of the long time supporters of MERCI that include the Lions Club of Monterey Park, the Kiwanis Clubs of Monterey Park and Rosemead and the Rotary Club of Monterey Park.
Ms. Escanuelas said today Genesis LA is a new sponsor for more funds to complete the construction projects.  The construction projects began in 2006 and are still in process in 2014.
She thanked the unsung heroes: Nathan DiFilippo, A. J. Glassman and Daniel Pedroza for their support.
MERCI has no debts except for the construction costs. MERCI is always debt free, as they don't overspend.
Assemblymember Ed Chau presented proclamations to the Nathan DiFilippo, A. J. Glassman and Daniel Pedroza for their valuable contributions to the MERCI family.
He thanked the volunteers and donors. MERCI has been at the forefront. It makes a tremendous difference in many lives.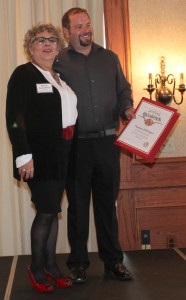 Marta Escanuelas, on behalf of Senator Ed Hernandez, presented proclamations to the Nathan DiFilippo, A. J. Glassman and Daniel Pedroza for their valuable contributions to the MERCI family. Senator Hernandez was unable to attend this event due to his busy schedule.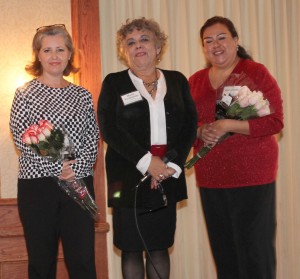 Marta Escanuelas recognized Bernice LaScala and Reyna Pena as her left hand and right hand. They helped her reorganize MERCI. She asked the guests to applaud all of the MERCI staff for their valuable assistance to the clients. She thanked all of the builders and developers for their assistance on the MERCI projects.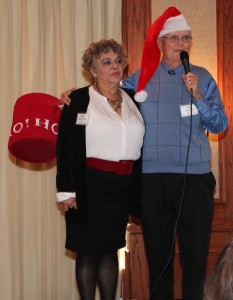 Bob Bruesch praised and thanked Marta Escanuelas for her service to MERCI. He also passed the hat for additional funds for MERCI.
The event ended when twenty-five lucky winners received the Christmas trees of their dreams complete with gifts.
MERCI, Inc. is a 501 (c) 3 non-profit organization, federal tax ID #95-2219917. Donations are tax deductible minus the amount of goods and service received.
MERCI mailing address is 525 N. Chandler, Monterey Park, CA 91754.
For more information about MERCI please call 626-289-8817 or e-mail them at www.merci.org.
Leave a Response